This is not anything I took pictures or video of, but I would be remiss as a Red Wings fan if I did not acknowledge the glorious event that occurred 14 years ago today.
The Brawl In Hockeytown was the result of a heated rivalry between the Detroit Red Wings and Colorado Avalanche coming to a head. The year before, Colorado's Claude Lemieux took a cheap shot at Red Wing Kris Draper that pretty much shattered his face. After a season of this act going unavenged (plus the Avs winning the Stanley Cup in 1996), payback was finally given in this game at Joe Louis Arena in Detroit.
Darren McCarty pummeling Claude Lemieux into the position that would grant him the nickname, "Turtle."
The guy with the A next to the Winged Wheel? That's my man, Brendan Shanahan!
Even the goalies were getting in on the action! Avalanche Patrick Roy got his ass beaten by Red Wing Mike Vernon.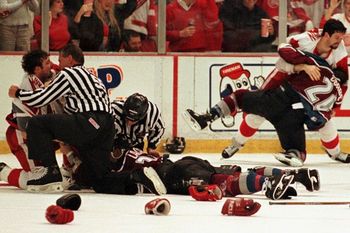 The refs finally stopped Mac from beating up Lemieux when the guy looked half dead. Meanwhile, there goes Shanny on the other side of the picture!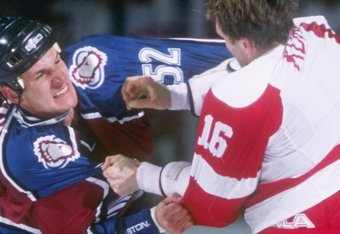 Vladimir Konstantinov doing what he did best: beating the crap out of his opponents! This is how #16 is remembered.